As everyone knows, Antiques are items made of valuable material with perfect workmanship. They are usually collected for their aesthetic value. However, the symbolic meaning of auspicious symbol of Chinese artworks is also a part of the value of the collection.
In China, implied meaning has always been an important part in antiques. Specifically, Chinese ancestors endowed some plants, animals, and imaginary beasts with different auspicious meanings. They believe that by possessing items with such images, their wishes would be conveyed to them. There are mainly three ways that Chinese people present auspicious meaning through objects:
Firstly, using widely known symbols to express their meaning. Secondly, directly using the auspicious words on the item. Finally, depicting images which can be express with auspicious meaning using puns or rebuses.
This blog will introduce you the first kind, which is the most commonly-seen, and diversified one.
The various plants, flowers, animals and Chinese characters provide artists with plenty of opportunity for artistic creation. Then, we will focus on illustrating one auspicious wish contain in several symbolic motifs: longevity.
Longevity – ShouLao
Longevity is one of the most culturally and symbolically important themes in traditional Chinese Art. It is one of the five blessings. Several images present the meaning of longevity, such as Shoulao (god of longevity), peach and Lingzhi Mushroom.
In Chinese traditional culture, the Sanxing (Three Stars) represents three attributes of a good life: Fu, Lu and Shou, each represents: blessings, status and longevity. They are thought to date from Ming dynasty. As a matter of fact, Shouxing or Shoulao is the god of longevity, he is recognised by his high domed forehead, with deer, crane and peach which is a symbol of immortality, and holding a stick (see below fig.1).

Longevity – ShouTao (Peach)
Peach is a typical auspicious symbol of longevity, with high status in Chinese culture.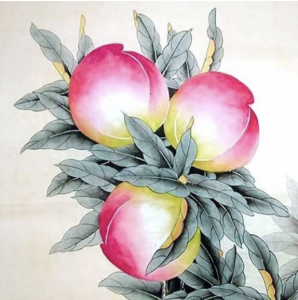 《神异经》记载:"东方有树,高五十丈,名曰桃。其子径三尺三寸,和核美食之,令人益寿。"
Translate as:
"There are trees in the east.
They are fifty feet tall,
which are peaches.
Its son (peach) is three feet
and three inches in diameter,
the peach of immortality and
delicacy that ripens every thousands of year,
which makes people live longer".
Gradually, peach became an emblem of long life.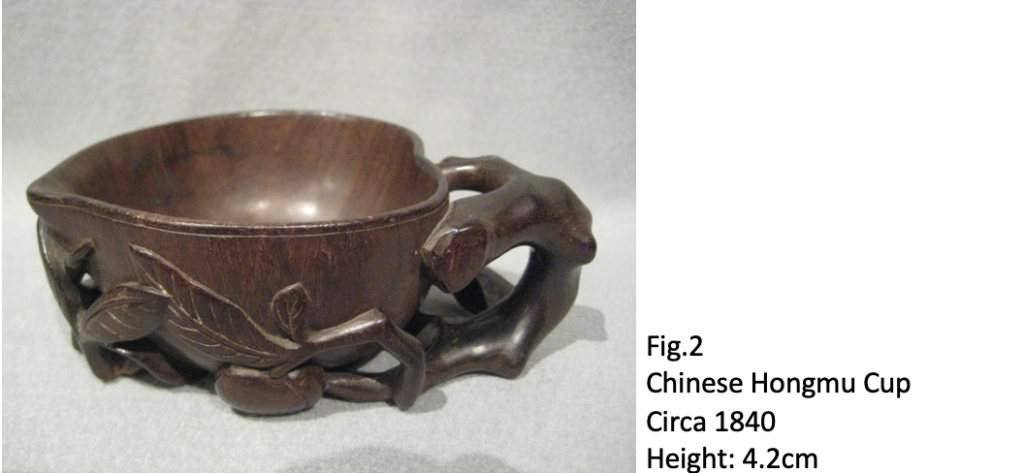 Longevity – Lingzhi
Furthermore, Lingzhi is another important auspicious symbol of longevity and health. It is very rare and notable medical fungi since ancient China, people believe it has magical curative effect.
During the Qin (221-207BC) and Han (206BC-AD220) dynasties, Taoists regard Lingzhi as a magical plant. It also known as Xianzhi (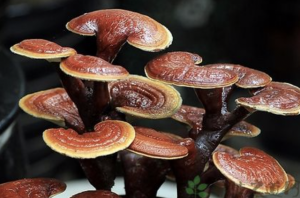 fairy) or Shenzhi(spiritual). Moreover, in the Chinese traditional thinking, Lingzhi is an auspicious plant with a mystical force. It grows widely in deep mountains and is difficult for people to pick.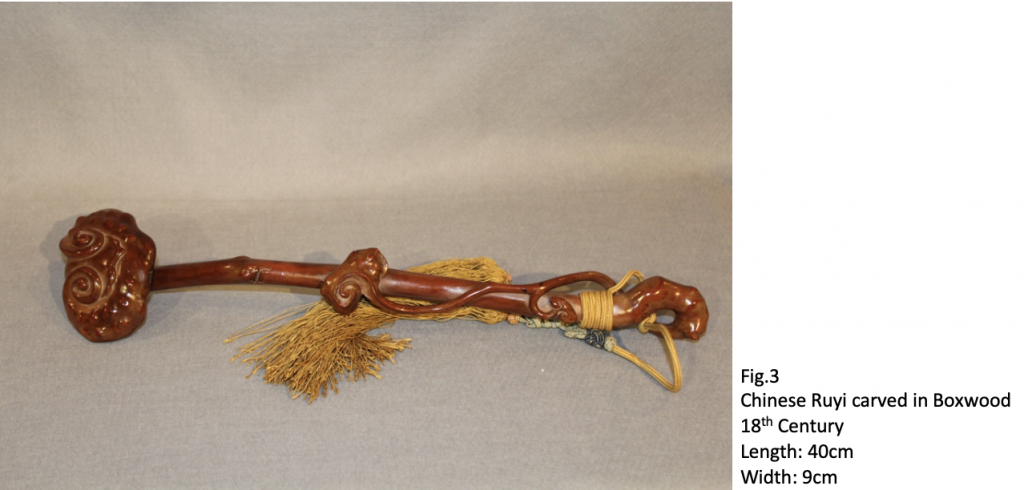 Figure 3 and 4 is a Chinese Boxwood Ruyi. The top of the Ruyi carved in the shape of a Lingzhi and an open-worked smaller Lingzhi intertwined, with silk tassel knot, which effectively emphasising the auspicious nature of that object.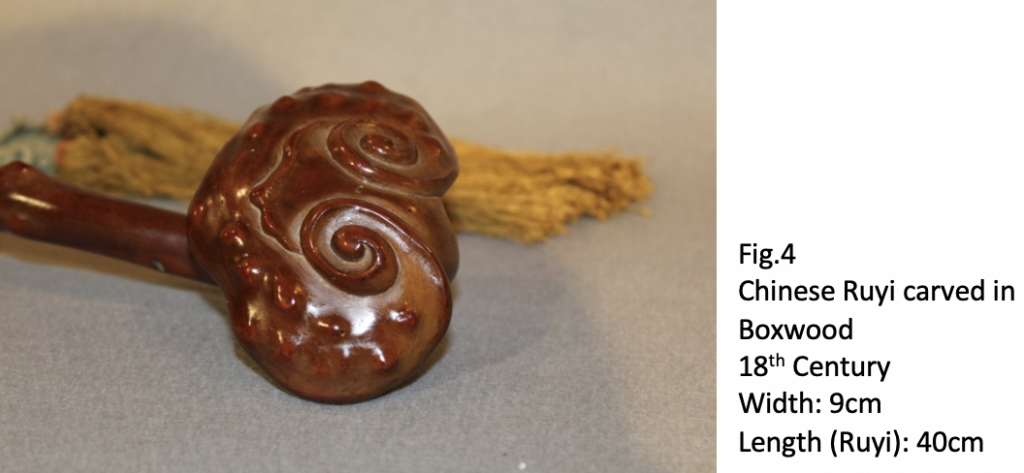 In fact, there are plenty of theories regarding its origins, and because Ruyi literally means – 'wishes fulfilled' in Chinese. Accordingly, they are typical auspicious symbol for celebrating a longevity of a marriage. Accomplished craftsmanship were required to produce them.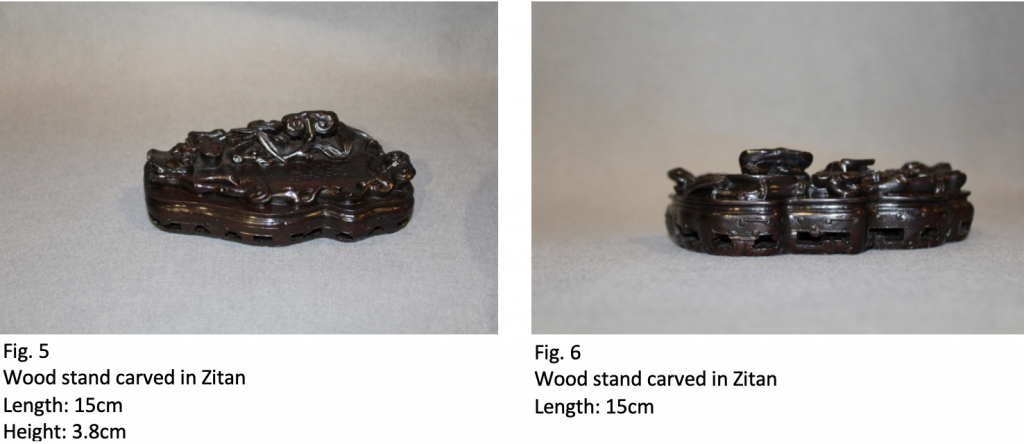 Figure 5 and 6 is an unusual Zitan stand, with Lingzhi surrounded on the top and supported by open-work base.
In general, China has an extremely rich tradition of auspicious motifs. Above all, this blog presents different types of symbol with the expression of longevity. We will discuss more about this topic next time.
Leave a comment of your thought, and follow our blog page for the 'next part' of the symbolic meaning of auspicious symbol in Chinese artworks.
众所周知,古董艺术品是珍贵的原材料通过精细加工而成的,他们的收藏价值主要体现在艺术价值和实用性。但同时,古董艺术品的象征意义也是其收藏价值的一个重要组成部分。
在中国,具有意义的吉祥图案长久以来都是艺术品的重要组成部分。中华民族的祖先们赋予自然界许多动物,植物以及虚构的野兽不同的吉祥寓意,他们认为用这些图案装饰物品会给自己带来祝福和好运。在中国传统技艺中,主要有三种赋予艺术品吉祥寓意的方法:
第一种是将器物饰以广为人知的吉祥物,第二种是直接将带有祝福的话语装饰于器物表面,最后一种则是在艺术品上饰以通过谐音等与吉祥寓意关联的意象。本文将会介绍第一种赋予吉祥寓意的方法,同时也是最为常见,表现形式最为丰富的一种。
多种多样具有吉祥隐喻的动植物给艺术家们提供了广泛的创作空间。下面,我们将从第一种展开,介绍一个重要的吉祥寓意—— 长寿
长寿:
长寿是中国传统艺术品中最具文化和象征意义的主题之一,也是五福之一。有许多物品被赋予长寿意义,比如寿老,手套和灵芝就是其中颇具代表性的几样,传达着长寿健康,以及好运的意义。
在中国传统文化中,三星代表了中国人最基本的三个愿望,即:福,禄,寿,以及他们的代表,福星,禄星和寿星,此说法可追溯到明朝。古人将寿星描述为白须老翁,额部高而突出,常衬托以鹿,鹤,仙桃,以及拐杖,象征长寿(插图1)。
在中国艺术品中,代表长寿的典型之一就是寿桃。在传说中,天庭王母的寿桃可以使人益寿千年。另外,寿老手中也常执桃。《神异经》记载:"东方有树,高五十丈,名曰桃。其子径三尺三寸,和核美食之,令人益寿。"因此,桃逐渐成为了长寿的象征。
灵芝则是长寿与健康的另一个重要象征,它是中国古代非常罕见和著名的药用真菌,人们相信它有神奇的疗效。在秦朝(公元前221-207年)和汉朝(公元前206年-公元220年)时期,道家认为灵芝是一种神奇的植物,它也被称为仙芝或神芝。在中国传统思想中,灵芝也被视为是一种吉祥的植物,具有神秘的力量。它生长在环境十分恶劣的深山中,因此人们很难采摘到。
图3和图4是黄杨木雕如意。如意取料于整根黄杨木枝,一端自然刻画以灵芝,另有一稍小灵芝以镂空雕刻,缠绕于主干之上,生动自然。末端坠以吉祥结及流苏,有效的强调了这一物件的吉祥意义。
关于如意的起源有很多说法,"如意",意为"称心如意",同时也被广泛用为贺婚祝寿的重要物件。按清宫习俗,于皇帝或皇太后寿辰时,王公大臣会向其呈进如意,也是万寿节礼仪之一,故清宫礼品中如意存世数量最多。
图5和图6则是不规则的紫檀木座,顶部环绕灵芝,以开放式底座支撑。
总的来说,中国有着极其丰富的吉祥图案和传统,本博客只介绍了一种赋予吉祥意义的方法,我们会对这个话题进行更多的讨论。如果您有任何想法,请在下方留言并关注我们的博客页面,以及时了解更多关于本话题的内容。